My posts have been few and far between. I've taken on another job and barely have time for laundry (actually have 4 baskets to fold and put away, when I finish this one). Lately my one pot meals haven't been as successful for all three of my children. One or all of them will often not like what I've cooked, except when I make chili. They all (usually) love that. But this classic Italian dish I tried for the first time and they all devoured it and raved how delicious it was. And not one complained about any of the ingredients (mushrooms, hot peppers).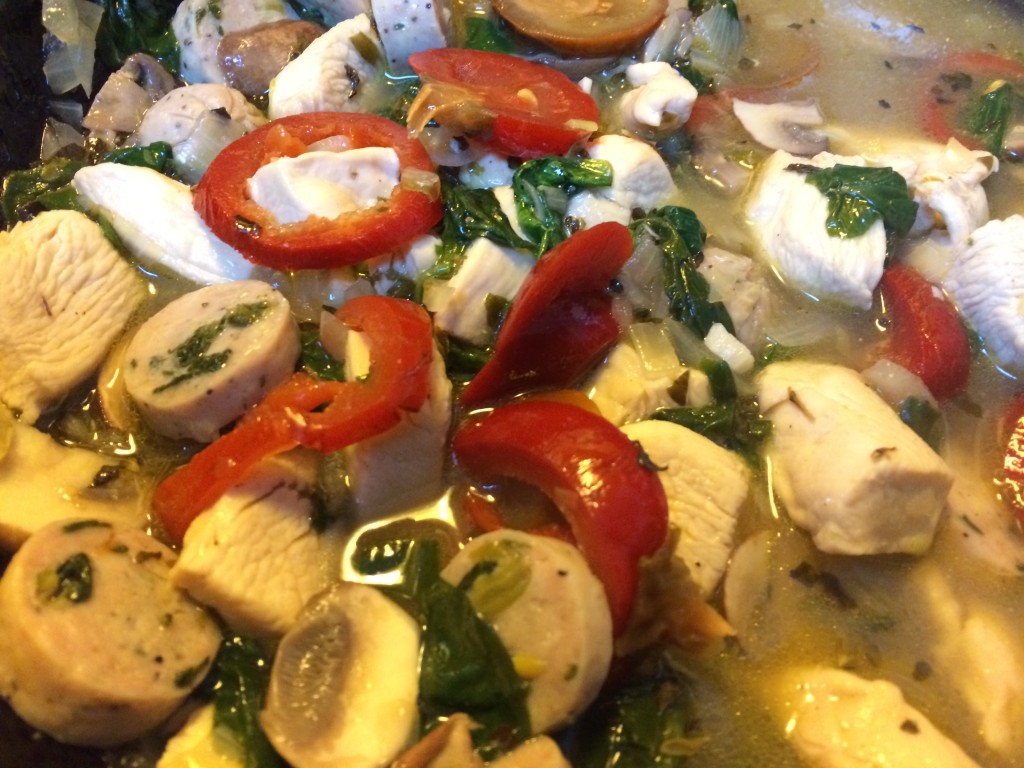 I didn't look up any recipe for this, but adapted it from versions I'd had in restaurants. I altered it slightly for my younger sons by not adding the hot cherry peppers until I'd dished theirs out. So, I catered to their tastes slightly, without compromising the whole dish. My youngest like black pepper but aren't really into very hot spicy dishes yet. Whereas, my eldest will add Sriracha and habanero powder to almost anything.
This takes about 20 minutes to make with breasts and longer with thighs.
Chicken Scarpariello* with Spinach
1 small onion
3 cloves garlic, chopped
2 chicken breasts or 4 thighs, cut in pieces
½ cup white wine
1½ cups of chicken stock
1 qt of mushrooms, sliced
1 bunch of baby spinach
3 sausage links (I used precooked spinach & garlic chicken sausage, can use sweet Italian)
Handful of hot cherry peppers (can use sliced red bell pepper if you prefer)
¾ Tbsp dried oregano
¾ Tbsp dried basil
Salt & Pepper to taste
Olive oil
Heat 1 Tbsp olive oil in pan over medium-high heat, add onions. Sauté for a several minutes, after they're nearly translucent, add the garlic. Sauté for another few minutes. Remove from heat and set aside the onions, garlic. Put pan back on stove and add more olive oil if needed. Sear the chicken pieces for a couple of minutes then add the onion mix back in (if using bell peppers, add now). Add the wine, then after about 30 seconds add the stock. After stock has started to simmer, add the sliced sausage, mushrooms, spinach, and herbs.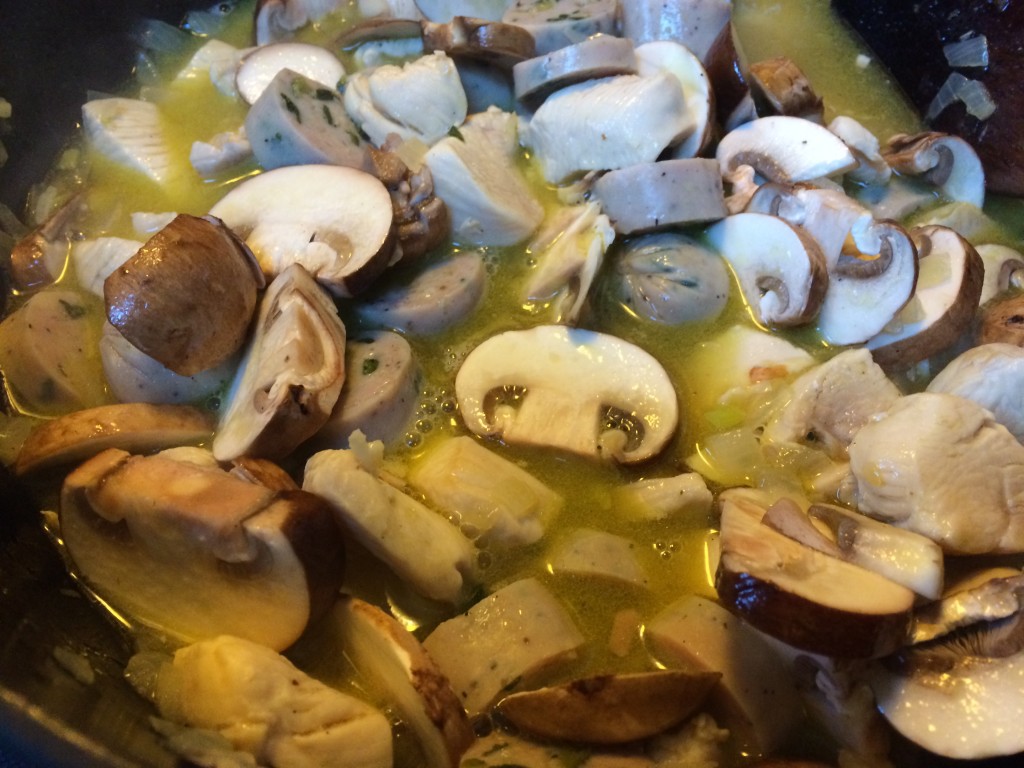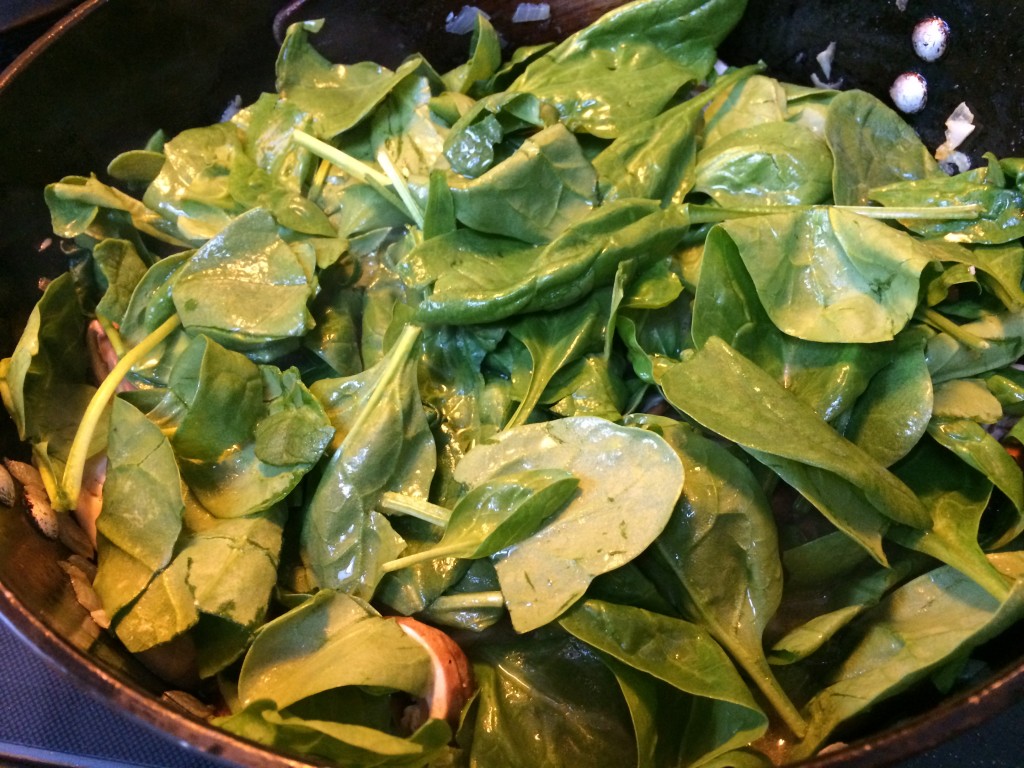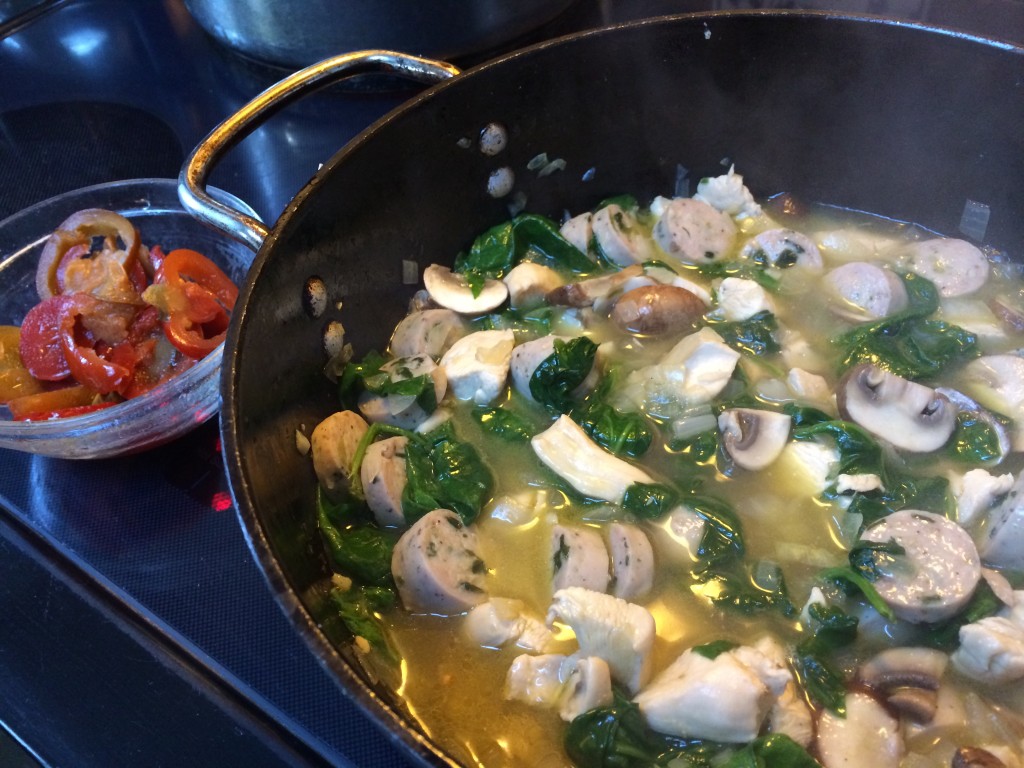 Turn heat down to medium-low and cover. After the spinach has wilted and sausage is warmed through, add hot cherry peppers, if you're having them. Add salt and pepper then serve over pasta. (If you are using chicken thighs, make sure they've cooked throughout. 165°F. Breasts don't take as long.)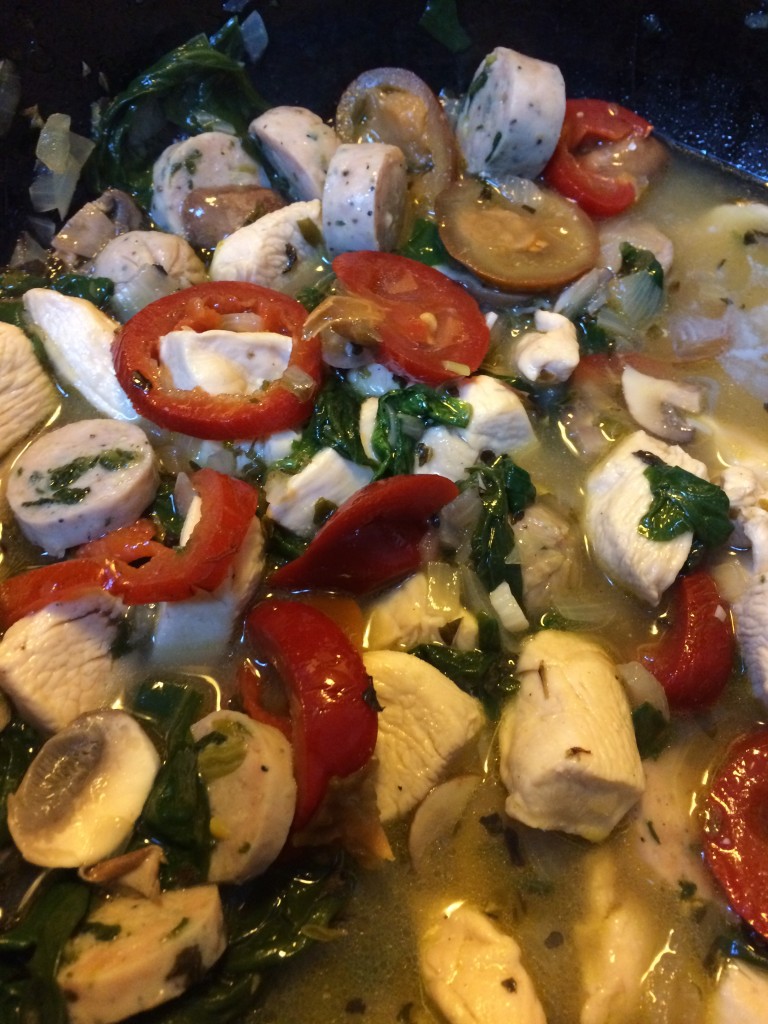 I guess this is technically two pots since pasta needs to cook separately!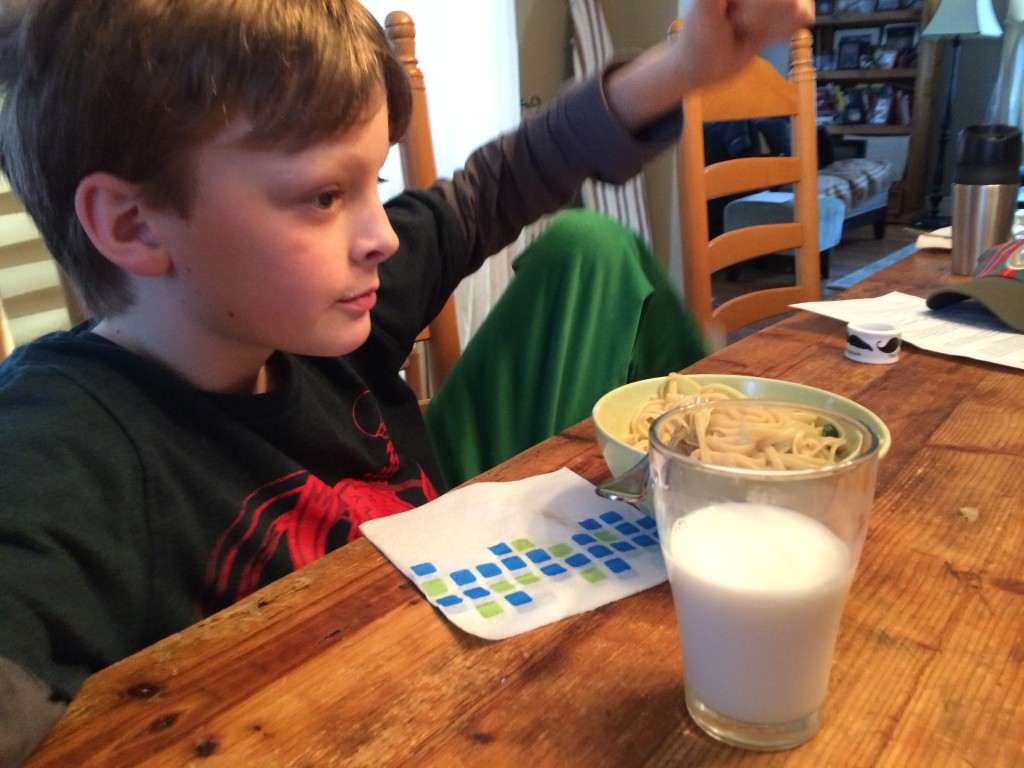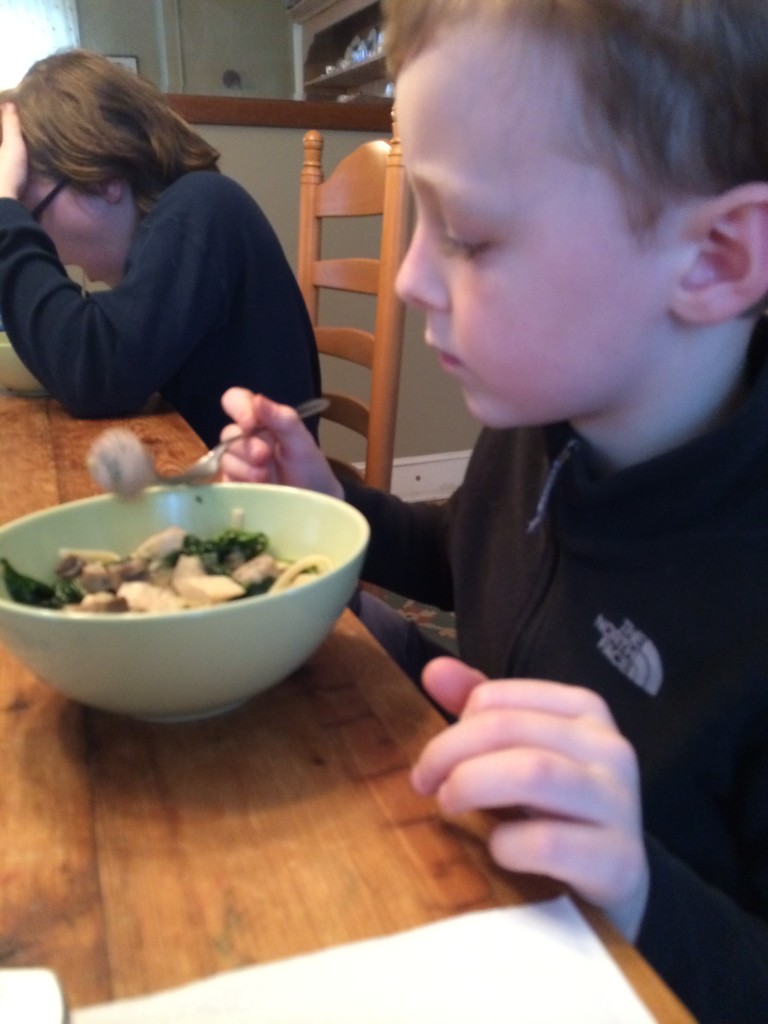 Feet up instead of thumbs up!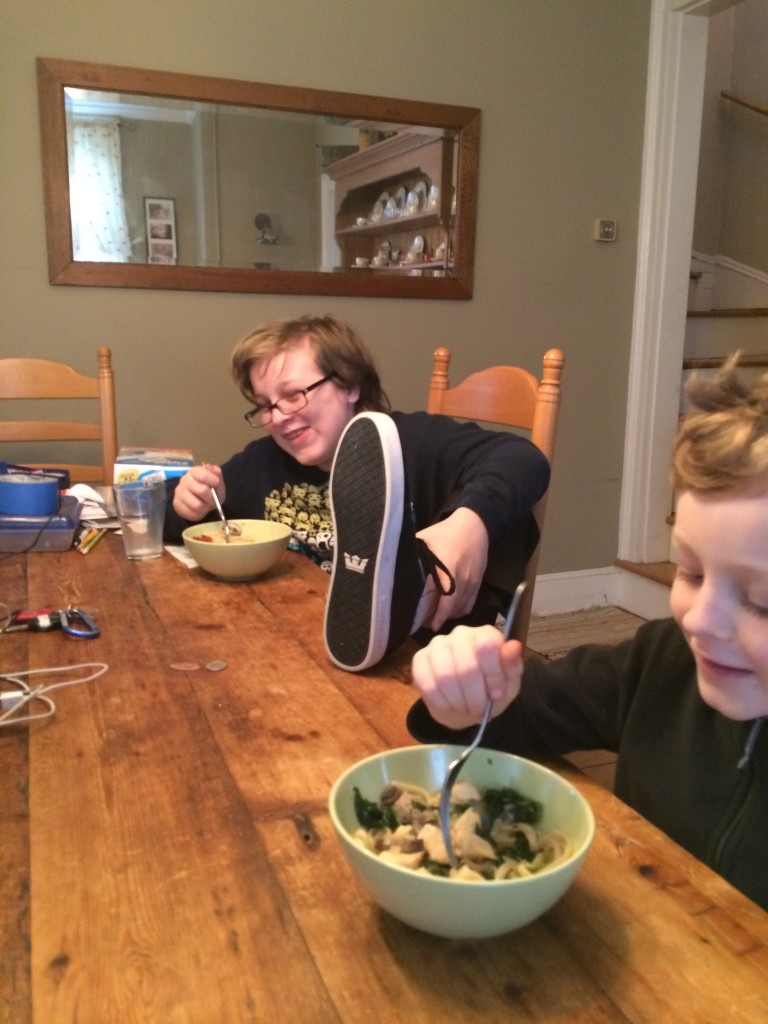 My kids really liked this and ate it all. It's one I'll be making again soon!
(*my version)