Although a few weeks left in summer vacation, our town is starting to talk about going back to school and we parents can't wait to see who our children will have for teachers. The packets were supposedly coming last week, then we were told probably by the end of next week. It's such a big deal to many– not only in getting a good fit with teacher to your child but also to see who of your child's friends will be in class together. But I'm always hoping we don't get the "your child's class is a nut-free class" letter. Luckily my children don't have any food allergies, but we still have to be considerate of those that do. Especially dangerous ones that can give a reaction just in tiny amounts, like nuts. But, since my two youngest love peanut butter and since my youngest is super picky, it's not the easiest to find snacks that they'll eat.
Here's a list of some healthy snack ideas that are nut-free:
FRESH FRUITS & VEGETABLES
(Mostly Organic Recommended)
Apples- whole or sliced (soak in water with lemon juice to prevent browning)
Apple slices with cinnamon (same as above)
Banana (whole or sliced with lemon juice)
Pear- whole or sliced (soak in water with lemon juice to prevent browning)
Avocado (squeeze lime/lemon juice on to prevent blackening)
Carrots (baby or cut sticks from large)
Cucumber slices
Celery sticks
Mango sliced
Grapes
Strawberries
Blueberries
Raspberries
Blackberries
Cherries
Oranges
Peaches
Nectarines
Plums
Pineapple
Papaya
Kiwi fruit
Honeydew Melon
Cantaloupe
Watermelon
Black Beans, Pinto Beans, etc.
Chickpeas/Garbanzo Beans- plain or roasted with Moroccan spices
Broccoli
Sugar Snap Peas
Snow Peas
Green Beans
Sweet Potato
Sliced Bell Peppers
Cherry or Grape Tomatoes
Cauliflower
Roasted Beets or Trader Joe's Ready to Eat Beets
DAIRY & EGG SNACKS
Cheeses- TJ's mini brie, mini goat cheese, sliced cheddar, organic cheese sticks
Kafir milk or Lassi
All natural yogurts without hormones like Stoneyfield or Trader Joe's, Brown Cow, Whole Foods, Horizon.
Trader Joe's yoyo squeezers
Stoneyfield or Horizon tube yogurt (freeze to keep cold or as frozen morning snack)
Simply Go-Gurt (if you can't find the above too)
Hard-Boiled Eggs with sea salt
Deviled Eggs
WHOLE-GRAIN SNACKS
Brown Rice
Couscous
Pasta (whole wheat, brown rice, etc) (served cold or in thermos warm)
Triscuits or Trader Joe's Woven Wheat Wafers
Popcorn (can pop on stove or in brown bag in microwave)
Oatmeal (served warm in thermos)
Kashi Shredded Wheat (vanilla, cinnamon)
Finn Crisp Thin Rye Crispbread
Lundberg Brown Rice or Wild Rice Cakes
Real Foods Corn Thins
Wasa Rye Cripsbread Varieties
Ryvita Rye Varieties
Kashi Heart to Heart Whole Grain Crackers (Original & Roast Garlic)
Trader Joe's Rice & Bean Chips
Trader Joe's Lentil twists
Trader Joe's Veggie & Flaxseed Tortilla Chips
Happy Herbert's Sesame Snack Sticks
Lentils – Trader Joe's Steamed Lentils
Raw/Roasted Pumpkin Seeds (Pepitas)
Sunflower Seeds
CANNED/DRIED FRUITS & SAUCES
Organic Raisins
Dried Plums
Dates
Mission Figs
Organic Dried Cranberries
Organic Dried Blueberries
Organic Dried Cherries
Organic Dried Apple Rings
Dried Unsulfured Apricots
Vermont Village Applesauce (great flavors)
GoGo Squeez Applesauces
Nature's Child Grape or Berry Squeezers
Trader Joe's Crushers
Trader Joe's Fruit Leathers
Trader Joe's Fruit Flakes
Trader Joe's Fiberful Fruit Bars
Clif Kid Organic Twisted Fruit Rope
Trader Joe's Freeze Dried Mangos, Bananas, Strawberries, Grapes
Roasted Seaweed Snack (TJ's or Costco)
Fruitabü Organic Smooshed Fruitrolls
Target Brand (Market Pantry) Freeze-dried fruits- Bananas, Mangos, Mandarins, Strawberries
Also, Homemade Nut-free Leftovers!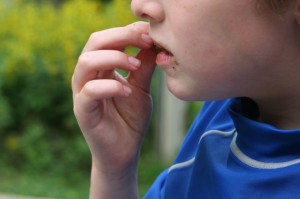 I've found that many of my local stores including Target, Stop & Shop and some other big box stores are starting to have some more healthful snacks (it's huge market, the snack market). You can find some good ones like dehydrated fruits (freeze-dried) and vegetables, various types of grain chips, types of fruit squeezers, etc. Just try to find things that actually have some nutrients in them, not just empty calories.