My brother posted on Facebook the other day that with the record heat in California his peach tree's fruit ripened seemingly overnight and the peaches began dropping off while he was exploring the Death Valley's street cooking potential. (He brought sous vide steak and some tin foil to cook eggs on the sidewalk)
Anyway, he was wondering what to do with his sudden plethora of peaches. I gave a few ideas: peach & blueberry crisp similar to what I've just made, peach simple syrup or puree for Bellini cocktails, using his dehydrator, and the one suggestion I got from a wedding I was working at last weekend– grilled bread with peaches and ricotta cheese.
So my own suggestion gave me the idea to make the last one as an appetizer at my friend's 4th of July Party. Deb has such wonderful style and makes fabulous cakes and party decor. Check out her Facebook page and you'll see what I'm talking about.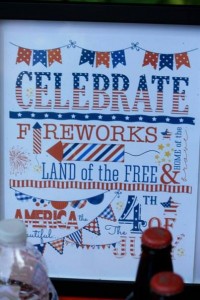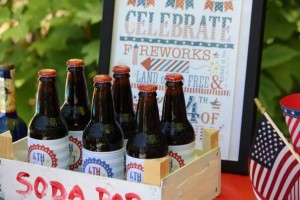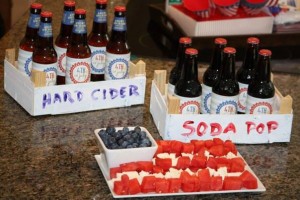 Grilled Peach & Ricotta Toast
Ripe peaches (not overripe)
Crusty bread
Good quality whole milk ricotta cheese
Local honey
Watercress leaves or other peppery green
Olive oil
Cut peaches in half (as best as possible removing stone). Slice bread into 1/2-3/4 inch pieces. Drizzle olive oil on slices. Grill bread until toasted. Remove from heat. Grill peaches until soft and slight char marks appear then remove from heat. Smear ricotta onto each piece of bread. Drizzle honey on ricotta. Slice peaches into 1/3 inch and lay on top of honey/ricotta toast. Top with watercress and serve immediately.
It was a great party! The kids had a ball in the pool, jumping on the trampoline, just playing with friends. And there was so much wonderful food! Besides the peach toast, my husband made delicious marinated lamb chops; friends had done marinated flank steak, shrimp, salads, dips, and so much more!
When it was dark my friends put on a spectacular fireworks display that rivaled any professional shows!