Savory Pumpkin Bread (No-knead)
3 cups AP Flour
1/2 cup spelt flour
1 1/2 cups water
1/2 cup pumpkin puree*
1 Tbsp grated parmesan*
1 1/2 tsps sea salt
1 tsp yeast
1/2 tsp ground sage*
Mix all ingredients in large bowl until all blended. It should be sticky but add a little flour if it is too wet.
Place in a large bowl lined with olive oil and cover with plastic wrap. Leave over night. In morning, scoop out dough and stretch, pull, fold and turn a few times. Place in bowl lined with parchment. Leave for an hour. Within half an hour place a Dutch oven (covered pot) in oven at 450F and leave for remaining 30 minutes. Remove Dutch oven from oven and carefully place dough (and parchment) into the hot pot. Cover and put in oven for 25 minutes. Uncover and bake an additional 25-30 minutes until golden (it will be a golden orange from the pumpkin).
Serve with butter.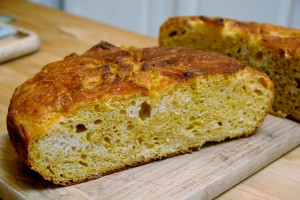 *Next time I will add slightly more pumpkin, Parmesan cheese and sage. Have to be careful with ground sage as it can be quite overpowering. I'd probably add another 1/4 cup of pumpkin, 2-3 more tablespoons of parmesan and 1/4-1/2 tsp more ground sage. I'll experiment with increments until I find it just right. It was delicious, just mild.