It's been weeks since I've had a chance to post on here. My husband is working for a new restaurant and he's working 14 hour days/6 days a week. (Well, even his one day off he'll still do food ordering, and other odds and ends. Hey, better than being unemployed!) After most of the past year having him around, I'd gotten quite used to it and now I'm back to doing all the parenting (after 8:15 AM) alone as well as cooking, cleaning, laundry, lawn mowing, shopping and my other job. Oh, and the volunteer stuff I still do. Oh, and a kid home each day for 3 days last week after a 4 day weekend. And, my son who's not willing to get to school most days– at least on time. So, all I'm saying is that it's been a bit tough to sit down and write. (Or I've got a fairly good excuse!)
I have been cooking and baking more now that my professional chef husband is out of the kitchen. I've created a couple new things but mostly done many stand-by's. Those who are familiar with my blog might recognize some of the snack foods I've been making, but sometimes I like to change it up a bit. One such way, using baby kale when I make kale chips. The boys gobble it up this way and I have done it 3 times in 2 weeks.
I notice the taste of the kale is milder. Maybe that's why even my pickiest son will eat this faster and in larger quantities than normal (full-grown) kale chips. It's a very kid-friendly healthy snack!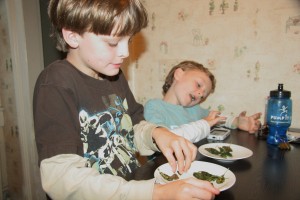 For these I just use a tiny bit of olive oil, sea salt and fresh cracked pepper. (Sometimes I'll use a spray oil which gives a perfect mist.) I roast them in batches at 375F until they're papery and crisp. It is important not to use too much oil or they'll burn or be too soggy. I just put a couple drops on top of a handful in a large mixing bowl with the salt and pepper. Toss it around and even rub the oil onto the leaves. Line a cookie sheet with the kale so they're only 1 layer.
I can't bake them fast enough!